GOLD ETF holdings have shrunk at their fastest pace since the price crash of spring 2013 since Donald Trump's US election victory, with the world's largest gold-backed trust fund starting Tuesday almost 3% smaller as price steadied from their worst drop in 2 years.
Down some 26 tonnes in the last 3 sessions, bullion held to back the SPDR Gold Trust (NYSEArca:GLD) has shrunk as shareholders have liquidated stock, falling the most since April 2013, when the gold price crashed at its worst pace in 3 decades.
That cut the GLD's backing to 928 tonnes, still 45% above end-2015's seven-year lows, but the smallest holdings since June's UK Brexit referendum result.
Gold prices ended Monday in London more than 5% lower from Wednesday afternoon in Dollar terms – the metal's sharpest 3-day drop since October 2014 at the
global benchmarking auction
.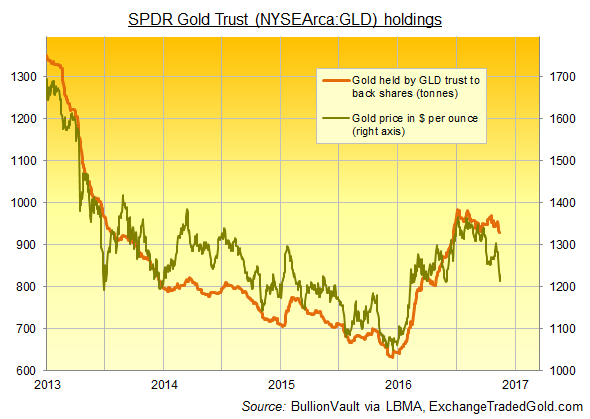 "Reduced regulation, lower corporate taxes, faster economic growth in the short term are
all positive factors fundamentally
," says Justin Oliver, deputy head of investment at the £12 billion Canaccord Genuity Wealth of Trump's stated policies.
Funds run by speculator George Soros
cut their GLD holdings
entirely between July and end-September, new regulatory filings show.
Data gathered by Nasdaq.com from all
13F filings
– reports on holdings of listed US equities which managers of $100m or more must make to regulators the SEC – show that the number of institutions owning GLD stock grew as prices plateaued between July and September, but their average holding shrank and the number of private investors in the stock grew much faster.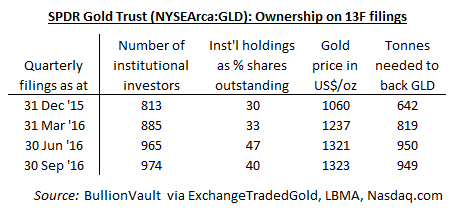 Total gold ETF holdings worldwide rose 1.1% in October,
data gathered
by market-development organization the World Gold Council showed Tuesday, with growth in cheaper vehicles the iShares IAU and ETF Securities' products outweighing a 5-tonne drop in the GLD.
"Another volatile session [Monday] with huge turnover," says Swiss refining and finance group MKS Pamp's trading desk, noting "a healthy $6-8 premium" on the Shanghai Gold Exchange, rising above $10 per ounce by the close – some 4 times the typical incentive for new imports to the world's No.1 mining and consuming nation.
Retailers and jewelers report a
23-fold spike in sales
of gold the night of last Tuesday according to
The Hindu
, when the sudden and controversial decision spurred a rush to buy gold with the expiring notes.