GOLD BULLION prices sank against a surging US Dollar on Wednesday in London, trading down towards 5-week lows beneath $1285 per ounce after Federal Reserve boss Janet Yellen said strong jobs data make raising rates more urgent.
The Dollar jumped to its highest level versus the single-currency Euro since mid-August at $1.17, and reached mid-July levels against the Japanese Yen at ¥113.
Global stock markets edged higher but major bond prices fell, driving up the yield offered by
10-year US Treasurys
0.07 points to 2.30% – the highest level since late July.
"A gradual approach is particularly appropriate in light of subdued inflation," said the Fed chair in
a speech in Cleveland
, "[because] the FOMC will have only limited scope to cut the federal funds rate should the economy be hit with an adverse shock.
"But we should also be wary of moving too gradually…My colleagues and I may have misjudged the strength of the labor market.
"It would be imprudent to keep monetary policy on hold until inflation is back to [the annual target of] 2%."
Gold prices today erased this week's earlier jump in Sterling, Yen and Swiss Franc terms.
Priced in the Euro, gold bullion halved its 2.1% gains from last Friday at €1095 per ounce.
With global quotes for London gold dropping $15 per ounce this morning from early Tuesday, today's benchmarking at the
Shanghai Gold Exchange
held almost $10 above equivalent Dollar spot prices.
Back in line with typical averages, that premium on bullion delivered in China offered the largest incentive to new imports to the world's No.1 consumer nation since gold's 4-month Dollar lows of early July.
Chinese gold jewelry demand – the world's largest since overtaking India in 2013 – fell another 3.6% by weight year-on-year during the first half of 2017, says the latest weekly note from specialist analysts
Metals Focus
, extending the 16% drop of 2016.
"Structural changes [driven by] new consumer trends stand out" as a cause, says the consultancy, most notably as "traditional [24-carat] chuk kam jewellery, which dominates the retail landscape, has lost market share to products that carry a far higher design component."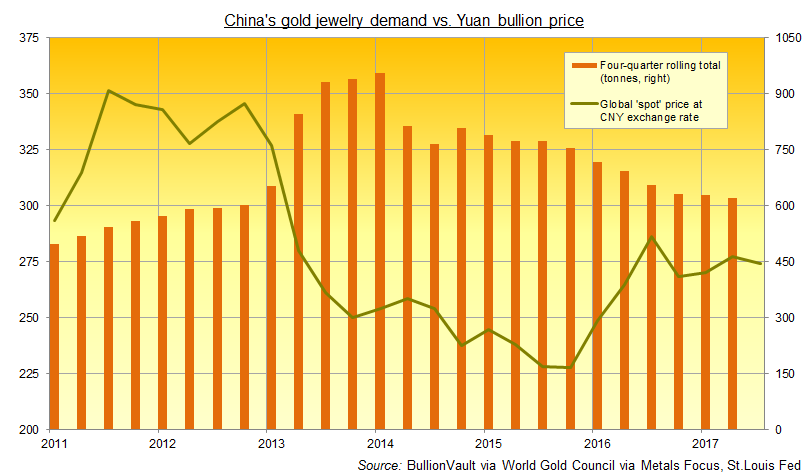 This month's key trade fairs in Hong Kong and Shenzhen confirmed the trend, Metals Focus says, because – amid "sentiment far more positive than in recent years [and] visitor numbers considerably higher" – "we saw considerable interest in pearls and coloured stones…[matching] market-share gains by gem-set and 18-carat products."
Online and smartphone marketing campaigns were "another feature" of China's big jewelry trade shows, the report adds, "especially in utilising [social media app] We-Chat to create 'Moments' adverts [for] a given location [and] a particular jewelry store."
"The government implemented the [new anti-money laundering] rule but it didn't take efforts to popularise" information about the lower limit for unreported transactions, the
Economic Times
quotes Surendra Mehta of the India Bullion and Jewellers Association.
"Customers are hesitating in giving necessary details [and so] unaccounted sales will rise in the festive season as some customers are trying to buy without bills."