GOLD PRICES rose further in London trade Thursday, gaining $20 per ounce from this week's 5-month lows after the US Federal Reserve raised its key interest rate as expected.
After UK inflation came in at a 6-year high of 3.1%, the Bank of England
today voted unanimously
to hold its key interest rate at a near record-low of 0.5%.
With annual inflation in Germany reaching 1.8% in its strongest year since 2012, the European Central Bank then said it's
keeping deposit rates at minus 0.4%
 for commercial banks, while extending its new quantitative easing asset purchases at a monthly pace of €30 billion per month until at least September 2018.
"Economic conditions will evolve in a manner that will
warrant gradual increases
in [interest rates]," said the Federal Reserve on Wednesday, taking the overnight Fed Funds rate up a quarter-point to 1.50% at the last major meeting chaired by Janet Yellen before current governor Jerome Powell takes over in February.
Gold prices
have since rallied over $200 per ounce from what were then 6-year lows, jumping a further $10 after the Fed's latest announcement to trade at $1257 this morning.
Silver also jumped after the Fed decision, rising back above $16 per ounce for the first time in a week.
Platinum in contrast held flat, headng for its lowest weekly finish since February 2016, as world stock markets fell back following the raft of central-bank announcements.
European government bond prices rose, nudging yields lower as oil and natural gas prices retreated sharply from this week's spike to 2- and 4-year highs respectively.
US Treasury bonds fell in price, edging the yield offered by Washington's 10-year debt back up to 2.37%.
That's still below the yield offered at New Year 2017, when the Fed's key overnight interest rate stood at 0.75%.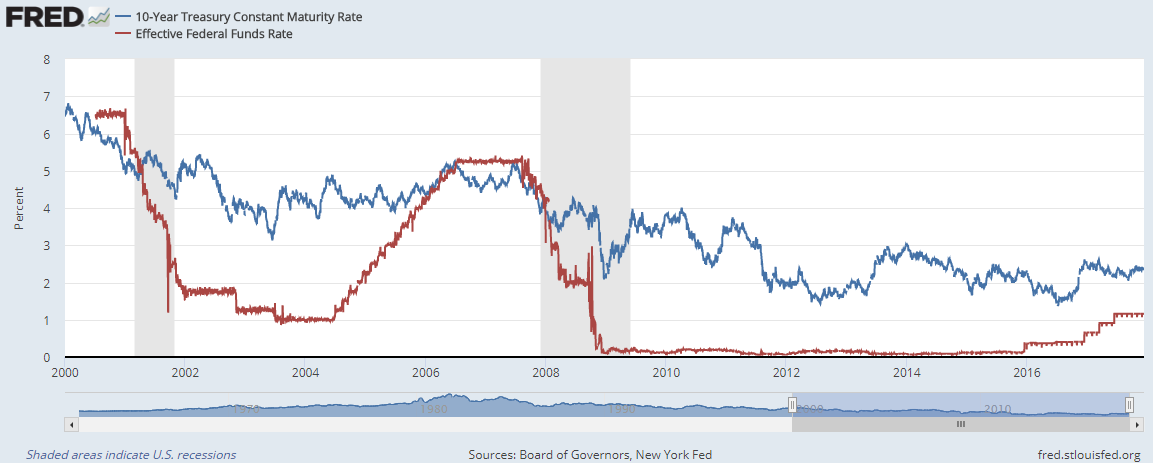 On its annual average, the 10-year yield has risen sharply in 2017 to 2.33% from last year's 1.84%.
But it has remained below the level of 2008-2011 (when the Fed moved to zero interest rates and conducted $2 trillion of QE bond purchases) and also below 2013-2014 (when the Fed discussed and then began 'tapering' QE ahead of
finally raising interest rates from zero in December 2015
).
The bulk of longer-dated bets see that the Fed then holding at that level until a rise to 2.00% or above in September 2018.