TRADING in Comex silver futures contracts was hit Friday by what dealers and analysts called a 'fat finger' error, knocking the metal down more than $1 per ounce to a sudden 15-month low at the start of Japanese hours.
A trade worth some $450 million in September and December silver futures saw those contracts plunge over 11%, immediately jumping back above $15.80 and rallying further as physical trading opened in London's wholesale market.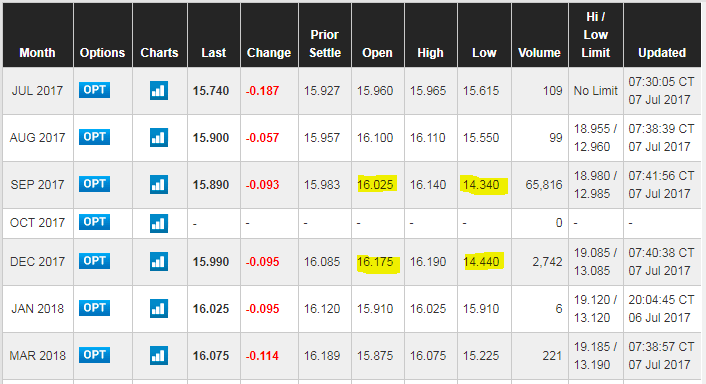 Comex operator the CME Group adjusted all trades in Sept and Dec' silver futures made below a price of $15.54 up to that level – still 1.9% below where London's midday benchmark, the LBMA Silver Price, then fixed five hours later.
Silver prices
then spiked to almost $16 per ounce against a falling Dollar after new US data said the world's largest economy added more jobs than analysts forecast in June, but the number of people looking for work rose faster while annual wage growth stuck at 2.5%.
Retreating again as the Dollar then rallied, silver headed for a 4.5% week-on-week drop, three times the weekly loss in gold bullion, itself down $20 from last Friday at $1221.
Silver trading through London's 'over the counter' bullion market – where each buyer and seller deal directly with each other (OTC) – leapt in May
according to data from the banks
clearing those trades, reaching its largest level since early 1999.
The five
clearing banks
– including vault owners HSBC, J.P.Morgan and ICBC Standard Bank,
all elected on Thursday
to the management board of trade body the London Bullion Market Association – transferred more than 265 million ounces between them on average each working day, breaking May 2011's peak when prices began their descent from near-record highs at almost $50 per ounce.
The volume of gold transfers slipped slightly in May, the data also said, but held 5% greater than London clearing's previous 5-year average.
Estimates say the total volume of gold dealt OTC through London may be three, five or even 10 times the clearing data.
Mandatory trade reporting
starts for LBMA market makers in September and then December 2017 for ordinary members said LBMA chief executive Ruth Crowell yesterday at the Association's annual general meeting.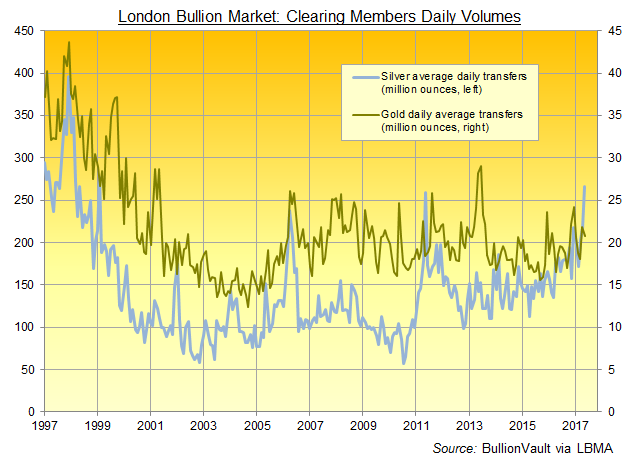 The latest London OTC figures come as base metals platform the London Metal Exchange (LME) prepares to launch new gold and silver contracts next Monday, aiming to attract a portion of the world's precious metals trading through London – estimated by analysts to be worth perhaps $5 trillion per year.
Now owned by Hong Kong financial exchange HKEX, the LME launched but then abandoned gold futures contracts in the early 1980s. It
also tried a silver futures contract
in 1999, again suspending it three years later.
The new
LMEprecious
products are "designed to support ongoing regulatory change, enabling greater market transparency and access, as well as providing additional robustness to the precious metals market," said the LME on Thursday in a joint statement with the mining-backed World Gold Council.