GOLD PRICES fell to new multi-week lows against all major currencies Thursday morning, dropping to $1254 per ounce for Dollar investors as all other tradable asset classes also fell following the Federal Reserve's decision to raise US interest rates despite weakening economic data.
The Fed also said it plans to start "normalizing" its balancesheet – swollen to $4.4 trillion by QE money creation and bond buying – sometime in 2017, giving a possible date to stop re-investing cash from maturing assets for the first time.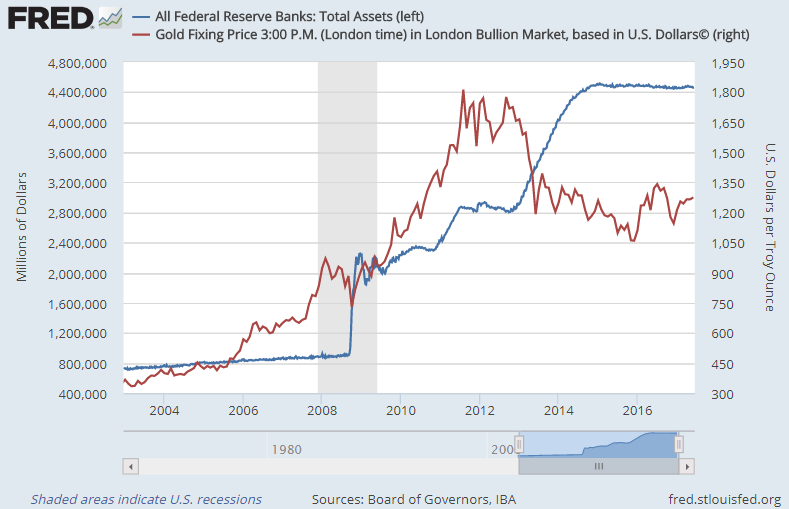 Crypto-currency
Bitcoin sank again
Thursday, taking its drop from Sunday's new record-highs above $3,000 to more than 20% but remaining over 3 times the price of this time last year.
World stock markets also fell, extending Wednesday's drop from new record highs in New York's major equity indices.
Commodities fell too, extending Wednesday's 2% plunge in the GSCI index as
US crude oil contracts
dropped below $45 per barrel for the first time in 2017.
Major government debt prices also fell across the boad, pushing the yield offered by 10-year US Treasury bonds up to 2.15% from yesterday's new post-Trump election lows.
UK bond prices dropped hard, sending 10-year Gilt yields bouncing sharply from yesterday's new 10-month low beneath 1.00%.
Latest data put Consumer Price inflation in the UK near a 4-year high at 2.9% per annum, with average wages – adjusted for inflation – no higher in real terms than in Spring 2006.
New figures today said UK retail sales fell hard last month from April's surge. 
The British Pound rose however, forcing gold priced in Sterling to spike down towards new June lows at £981 per ounce, some 8% below last July's 3-year peak after the UK's shock Brexit referendum result.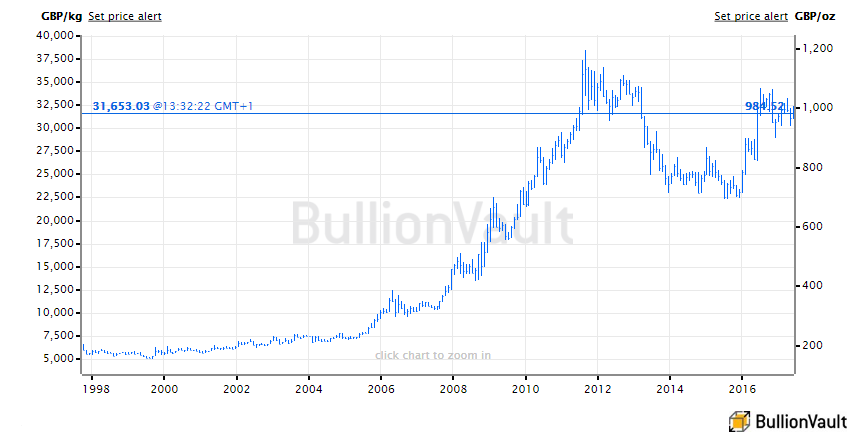 Warning after last week's inconclusive election on the economic risks posed by Brexit, "Attempting to offset fully the effect of weaker Sterling on inflation," said the
Bank of England today
, "would be achievable only at the cost of higher unemployment and, in all likelihood, even weaker income growth."
Holding rates at a record-low 0.25% yet again, and hinting it will "support…jobs and activity" rather than trying to fight inflation, the BoE's Monetary Policy Committee was split 5-3 however on today's June decision.
Leaving today after attending 33 meetings, US academic Kristin Forbes
voted to raise rates
for the third time running on Thursday, dissenting alongside fellow 'external' members and private-sector economists Ian McCafferty (a serial and lone 'hawk' in 2014-15 whose term runs to 2018) and Michael Saunders (who joined last September until 2019).
"If Britain changes its mind [on Brexit]," said the European Union's spokesman Guy Verhofstadt yesterday, "it will find an open door. But it will be
a new door to a new Europe
."
The Euro today fell to a new June low against the Dollar on the FX market, trading at $1.1154 as the US currency rallied following the Fed decision to raise its key interest rate to a ceiling of 1.25%.
Its "emergency low" during the deflation scare of 2002-2005 was 1.00%.
US consumer price inflation slowed last month to 1.9% per year.
"Just like in previous rate hikes, the next day the [gold] market starts looking at the probability of the next hike, because
everything was factored in
beforehand," reckons Bernard Dahdah at French investment and bullion bank Natixis.
Minneapolis Fed president Neel Kashkari yesterday
voted against raising rates
, as he did in March after becoming a voting member this New Year.
The Committee's first 2017 outlook –
given in September 2015
– predicted a range of 2.1-3.4% for the Fed's key interest rate this year.