GOLD PRICES rose against all major currencies but leapt versus the Euro on Tuesday as the coalition government in Italy refused to cut its 2019 budget deficit plans in defiance of senior European Union figures.
Gold priced in US Dollars rose to 1-week highs above $1202 per ounce, and the UK gold price in Pounds per ounce jumped 1.8% to 3-week highs above £927 as the country's ruling Conservative Party found its
annual conference riven
by continued arguments over leadership and Brexit.
But the gold price jumped fastest against the weakening Euro single currency, hitting €1042 per ounce – nearly 3.0% above last week's new 32-month low – as the price of Italian government bonds fell hard, pushing up Rome's cost of borrowing.
The spread between Italian bond yields and German Bund yields
leapt back above 300 basis points
 – the multi-year highs reached duriing this spring's election crisis – following what Italy's deputy prime minister, Luigi Di Maio of the anti-establishment 5-Star Movement, called "market terrorism" from Brussels.
Denying that the EC is pro-austerity, "I think the Italian government
must tell the truth
to the Italian people," said European Economic Commissioner Pierre Moscovici to CNBC today.
"More public expenditure can make you popular for a while. But then, who pays in the end?"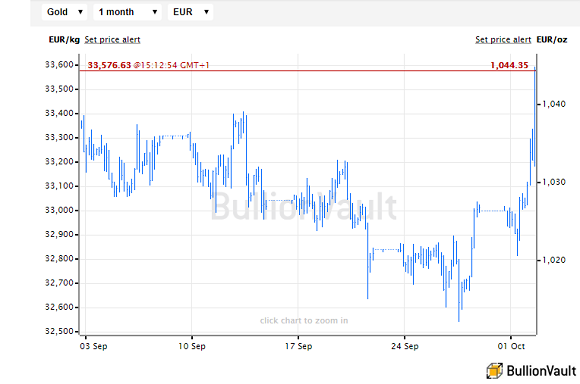 The 2019 budget announced by the coalition of right-wing Lega and M5s parties last Thursday puts Italy's deficit between government income and spending at 2.4% of the country's annual gross domestic product.
Below the EU's legal limit 3.0% of GDP limit, it would still grow Italy's underlying debt-to-GDP ratio – already the worst in Europe behind Greece.
"One crisis was sufficient," said outgoing president of the European Commission Jean-Claude Juncker on Monday, referring to the Greek debt crisis starting in 2010.
"We
have to prevent Italy
from being able to get a special treatment which, if everybody were to get it, would mean the end of the Euro."
Di Maio reacted with what
La Stampa
calls "anti-EU fury", lambasting "[this] preventive attack from the European institutions which
shows all the prejudices towards Italy
" and denouncing Brussels for "market terrorism".
"We are not turning back from that 2.4% target…We will not backtrack by a millimetre," Di Maio went on.
"The package of measures we are developing," agreed Prime Minister Giuseppe Conte in
a post on Facebook
, "aims to combine equity and efficiency."
As for leaving the Euro – a move
suggested again today by Claudio Borghi
, member of the rightwing Lega Party and president of the Lower House's budget committee – "Italy is a founder member of the European Union and of the monetary union," Conte said.
European stock markets held lower on Tuesday afternoon, but Milan's FTSE MIB index recovered most of an earlier 1.8% drop.
The Euro meantime held at 10-week lows on the currency market, helping extend the day's gains in
silver prices
to 4.0% for French, German and Italian investors.