GOLD PRICES rose within $1.10 of $1300 per ounce against a falling US Dollar on Thursday in London after yesterday saw the release of what analysts and headline-writers called "dovish" notes from the Federal Reserve's latest policy meeting.
While the Fed's May meeting minutes showed a consensus for raising Dollar interest rates as expected in June, the Committee also suggested it would be comfortable watching inflation in US consumer prices rise above its 2.0% annual target for "a temporary period".
Most notably, the
Fed minutes said
"it [is] premature to conclude" that inflation will hold at or above 2% after the cost of living has "persistently run below the Committee's objective."
Longer-term US interest rates fell on the news, with a rise in US government debt prices today holding the yield on 10-year Treasury bonds back below 3.00% – a near 7-year high when breached in late April.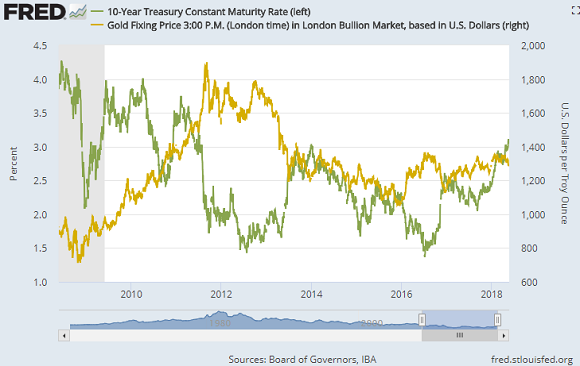 The market-implied odds of the Fed raising in June and then only twice more in 2018 have now gone from 52% to 60% since this time in April.
"While a rate rise would be negative for gold," says strategist Jonathan Butler at Japanese conglomerate Mitsubishi, "if it is accompanied by a further rise in inflation, the real rate environment should be kept favourable to gold and precious metals.
"Another tailwind for gold may be risk aversion emanating from the US stock market – the sugar rush of US corporate tax cuts is largely baked into equity prices, and a record earnings season has failed to boost the S&P equity index to fresh highs following the all-time highs seen in January."
The US stock market on Wednesday recovered a small loss to end 0.3% higher after the release of the Fed's minutes.
Asian equities then fell on Thursday. European stock markets also slipped overall as major government bond prices rose, including Italy's sovereign debt.
Over in China's bullion market, Shanghai premiums held at $6 per ounce above London quotes on Thursday, one-third below the typical gross margin offered to dealers importing gold bars from the world's wholesale trading hub into the No.1 consumer nation.
That's the widest discount – after accounting for the country's 10% import duty on bullion – since October 2016.
The Turkish Lira meantime gave back more than half of its 8% overnight rebound on the currency market, falling near this week's new all-time record lows despite the central bank in Ankara
hiking its key lending rate
from 13.5% to 16.5% at an emergency meeting.
Consumer-price inflation in the No.5 gold consumer nation currently runs at 10% per year.
As the Dollar also weakened on the FX markets Thursday, the
UK gold price in Pounds per ounce
popped above £970 and the gold price in Euro terms again rose towards early May's 8-month highs at €1110.