GOLD PRICES fell to 1-week lows beneath $1295 per ounce lunchtime Tuesday in London as new inflation data said the US cost of living rose 2.8% per year in May, the fastest pace since early 2012.
Ahead of tomorrow's Federal Reserve decision on interest rates, short-dated US debt prices fell hard, driving 2-year yields back up towards last month's decade highs of 2.58%.
Previously showing a consistently negative relationship with real bond yields, the price of gold in Dollars has become positively correlated with 2-year Treasury yields minus inflation since Donald Trump was elected president in November 2016.
The median correlation of -0.43 from 2001 to 2016 has now flipped to a median +0.43 on a rolling 12-monthly basis.
That means gold has tended to rise or fall in line with the real rate of interest on short-term government debt, snapping its prior relationship.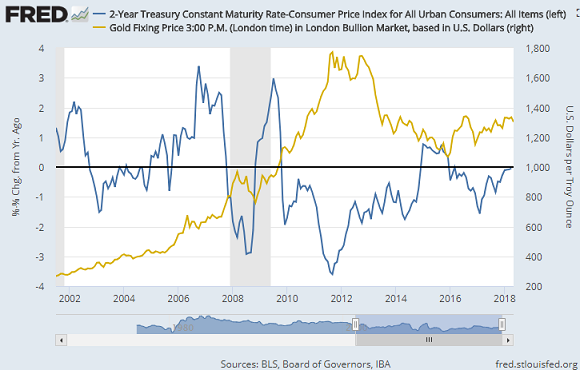 South Korea today asked Washington for the
"precise meaning or intentions"
of remarks made by Trump after his meeting this morning with North Korea's dictator Kim Jon un.
Vowing "commitment [and] efforts" to remove nuclear weapons from the Korean peninsula, the Trump-Kim meeting failed to announce any concrete steps.
Trump then blasted Canada's Prime Minister Justin Trudeau again for saying
"we will not be pushed around"
by Trump's negotiating style over imposing high trade tariffs on imports to the United States to try and reduce its trade deficit.
"That's going to cost a lot of money for the people of Canada," said Trump in his post-Singapore press conference, explaining that
he had watched Trudeau's speech
on TV aboard Airforce One.
"He learned. You can't do that. You can't do that."
Asian stock markets rose but Europe stalled after Wall Street set new 3-month highs overnight.
Crude oil
also pulled back
, extending its retreat from last month's 3-year highs to nearly 5%.
"The clouds on the horizon…are
getting darker by the day
," said IMF managing director Christine Lagarde on Monday, highlighting "the deterioration in confidence…prompted by [Trump's] challenge to the way in which trade has been conducted, in which relationships have been handled and in which multilateral organisations have been operating."
"We must stop this escalation of tensions," agreed World Trade Organization director-general Roberto Azevedo, also speaking in Berlin after meeting with Germany's chancellor Angela Merkel.
"A tit-for-tat process is not going to be helpful."
Latest UK trade data say that London's specialist bullion vaults regained March's small outflow of gold in April, with imports outrunning exports by £232 million, equal to some 8 tonnes.
China led April's destinations for gold shipped out of London, accounting for 43% of the UK's gross exports and followed by No.5 consumer nation Turkey (27%) and refining hub Switzerland (12%).
Gold bullion landed in Shanghai fixed Tuesday at a $5.75 premium to London quotes, little changed from the last fortnight's weak incentive for new imports to the No.1 consumer nation.
Turkey's President Recep Tayyip Erdoğan meantime said overnight that his government will use the S-400 air defense missiles it is buying from Russia in defiance of US and other Nato members
"if necessary"
.
Less than 2 weeks before Turkey's snap election – called by Erdogan to try and cement new powers granted to him by a referendum last year – the main opposition candidate Muharrem İnce has
filed criminal charges against the President
for accusing him of working for exiled cleric Fethullah Gülen, widely suspected of fomenting the failed 2016 coup attempt. 
Meantime in the UK, "
Ignore the will of the people at your peril
," said the front-page of minor tabloid the
Daily Express
, referring to the 52:48 referendum win for quitting the European Union ahead of a Commons debate on amendments to the EU Withdrawal Bill added by the non-elected House of Lords.
With the ruling Conservative Party risking a rebellion by anti-Brexit lawmakers, "MPs have a choice," agreed best-selling tabloid The Sun:
"Great Britain or Great Betrayal."