GOLD BULLION slipped over $10 per ounce from yesterday's spike to new 12-week highs in London on Tuesday, but held above $1250 per ounce ahead of new US president Donald Trump speaking to Congress on his fiscal plans.
World stock markets rose following Wall Street's 12th consecutive new all-time closing high on the Dow Jones index.
US bond yields slipped once more, but with Trump's expected tax cuts and new spending widely taken as bullish for the US economy,
betting on a March rate-rise
from the Federal Reserve has risen, putting the likelihood at 1-in-3 from lower than 1-in-4 before the weekend.
Silver bullion meantime traded 4.3% higher for the month of February, retreating 0.9% from Monday's spike to $18.49 – also its highest price since Trump's victory in November's US presidential election.
Bullion prices in Shanghai had earlier fixed with a 4.8% monthly gain versus the Chinese Yuan, holding the premium for gold already landed in the world's No.1 consumer nation above $10 per ounce yet again – more than 4 times the typical incentive to new imports.
Usually the Chinese New Year – celebrated in 2017 one month ago today – sees a lull in wholesale bullion demand, because the heavy jewelry, coin and small bar investments made during the Lunar New Year holidays needed metal shipping to retailers in advance.
One month into this Year of the Rooster however, the Shanghai Gold Price has now averaged a premium of almost $11 per ounce over and above London quotes.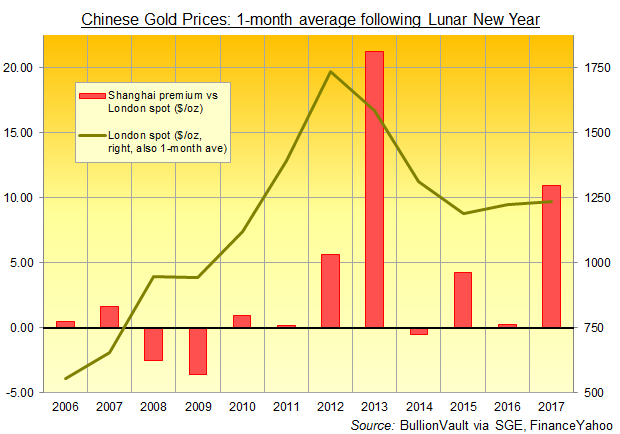 Barely 25% of the spike to 3-year highs in late-2016 on rumors of
tighter import restrictions
before the holiday shopping season, that still marks the largest New Year's incentive to imports since 2013.
"Bullion imports into China ended last year strongly," says a note from Japanese conglomerate Mitsubishi's analyst Jonathan Butler, "due in part to a sustained local premium.
"But this did not spill over into demand this January…as many jewellery manufacturers and traders were already fully stocked ahead of the seasonally busy Lunar New Year period, which this year fell earlier than in 2016."
New data overnight said Hong Kong shipments of gold bullion into mainland China fell 5% year-on-year in January, reaching less than 32 tonnes.
"The higher prices appear to have held buyers back," says a note from the commodities and bullion analysts at German financial services giant Commerzbank today, also pointing to how a late Chinese New Year meant "many traders had already bought sufficient gold to cover their needs back in December."
Trading activity from late 2016 and early 2017 so far suggests that, alongside China's strong jewelry demand and retail investment, gold bullion is
being sought by institutional and high-net-worth investors
, thanks to what specialist analysts Metals Focus call a "relative lack of [other] investible assets" as people stay shy of the stock market and local government tries to curb real estate speculation.
While Hong Kong is no longer the only route into China for gold bullion, "not only was [February's low import figure] somewhat less even than the weak month of last January," Commerbank adds, "it was also the lowest level since August 2014."
Gold priced in US Dollars today headed for its 9th February gain of the last 11 years, holding a 3.3% gain for the month at lunchtime in London's wholesale bullion market.