GOLD PRICES edged down on Monday, erasing 2019's Dollar gains-to-date after the metal's No.1 consumer nation China posted its slowest economic growth in nearly three decades, writes Atsuko Whitehouse at BullionVault.
Spot gold declined for US investors to $1278 per ounce – down $20 from New Year's spike to 7-month highs – after Beijing said China's GDP grew only 6.6% across 2018, the lowest official pace since the global slowdown and aftermath of the Tiananmen Square protests in 1990.
Asian stock markets rose but European equities fell, while gold prices for Euro investors fell to €1124, down some 1.1% from start-January's new 20-month high.
Ahead of today's price drop, the world's largest gold-backed exchange-traded fund – the SPDR Gold Trust (NYSEArca: GLD) – expanded at its fastest rate so far this year on Friday as investors bought the stock.
Favored by some professional money managers wanting gold-price exposure, the GLD grew to need an extra rose 12 tonnes of bullion to back its
gold ETF shares
, taking the fund to the biggest size since end-June.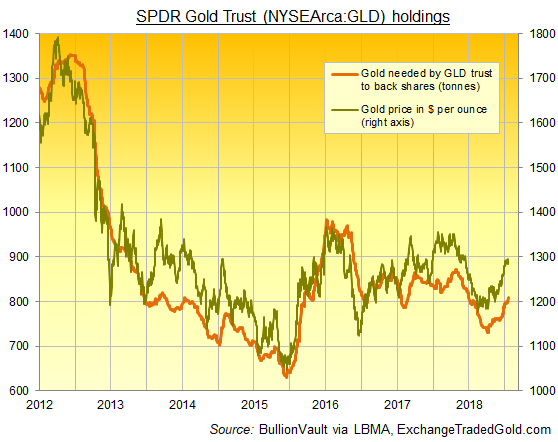 "Growth is still very important for China," the FT today quotes economist and former People's Bank advisor Yu Yongding at the Chinese Academy of Social Sciences.
"We can
only tolerate a certain slowdown
…Yes, we should try to stabilise the [economy's debt] leverage ratio, but you can't cut the ratio in a hurry…[because] without growth, everything will get worse."
"US-China trade friction indeed has an impact on economic performance, but we have overcome the overall influence," adds Ning Jizhe, director of China's statistics bureau. 
"Things are
going very well with China
and with trade," said US President Donald Trump to reporters at the White House this weekend, ahead of Chinese vice-premier Liu He visiting for talks at the end of January. 
Beijing has
reportedly offered to boost imports
from the United States as far ahead as 2024 – to the end of Trump's second term as President should be win re-election next year – as part of trying to resolve the US-China trade war.
The UK gold price in Pounds per ounce meantimes moved sideways at £994 on Monday as Sterling weakened after Theresa May told her Cabinet about her 'Plan B' for Brexit, due to be presented to Parliament later on Monday following last week's historic defeat by lawmakers.
Amid
fresh sanctions
by the European Union over last year's attempted murder of a former spy in the UK city of Salisbury, the Russian state last year increased its monetary gold reserves by
a record-breaking 273 tonnes
to reach 2,100 tonnes, Moscow said Friday, becoming the 5th largest national holder of bullion.
"It seems there is an aim to diversify from American assets," Reuters quotes a source at one Russian gold miner.
"[But] in times of
uncertainty like today
," says economic historian Catherine Schenk at the University of Oxford, quoted by
the Wall Street Journal
, "the liquidity of markets becomes even more important.
"[So] we have seen a resurgence in the dominance of the Dollar in cross-border debt and a persistence in its role as a reserve currency."