BUY GOLD prices retreated from 7-week highs against the Dollar on Wednesday, dipping below $1290 per ounce as world stock markets rallied from yesterday's drop but crude oil continued to fall despite worsening Middle East tensions.
The self-declared Islamic State group claimed
responsibility for 12 murders
in Iran's capital Tehran, with gunmen today attacking a session of Parliament and a suicide bomber attacking the tomb of radical 'founding father' cleric Ayatollah Khomeini. 
Saudi Arabia this morning called on neighboring Qatar – now under a diplomatic and trade freeze by other Middle East states – to sever ties with Palestinian terrorists Hamas and the now banned former Egyptian election winners the Muslim Brotherhood.
With gold losing $5 from Tuesday's highs, silver today dropped near last week's closing level beneath $17.60 before recovering 6 cents. Crude oil edged further below $50 per barrel of Brent crude.
"Gold still in high demand," claims German financial services group Commerzbank's commodities team, pointing to Tuesday's 4-tonne inflow to the bullion needed to back shares in the largest stockmarket-traded gold product, the SPDR Gold Trust (NYSEArca:GLD) – "its biggest daily inflow in nearly seven weeks."
Taking the GLD's holdings back to only a 5-week high however, that size of inflow was seen every day on average from late-May to early-July 2016, either side of the UK's Brexit referendum.
Tuesday's growth also matched only 70% of the GLD's strongest 3-month daily average inflows, seen from January to March 2009.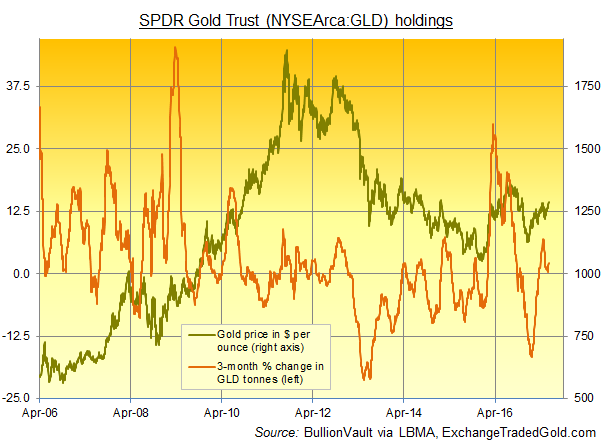 Gold ETF holdings for leading European provider ETF Securities shrank 0.5% by end-Tuesday from the end of May, but held 1.2% larger from this time last month.
Shanghai premiums meantime fell to $6.45 overnight compared to London quotes – a new 6-week low – as Chinese Yuan prices failed to match the metal's Dollar rate rise, suggesting an improvement in local supply over demand.
"However, there is no denying gold has its buy boots on," says a note from London broker David Govett at Marex Spectron. "I suspect we will touch $1300 at some point.
"Being long of gold is the way forward…There have been numerous opportunities to buy dips and I would continue to do this."
Factory orders in Germany fell hard in April, new data meantime said Wednesday, down 2.1% from March against analyst forecasts of a 0.4% slip.
Italy's retail sales also fell and missed analysts forecasts.
Spain's failing and debt-laden Banco Popular was meantime given to Santander – one of the world's largest commercial banks – for just €1,
wiping out shareholders
and 'junior' bondholders under the Eurozone currency union's Single Resolution Board, created at the start of 2015, run by former German financial regulator Elke Koenig, and previously untested in a bank failure.