BUY GOLD prices held around last week's 2-year closing high in Dollar terms Wednesday morning as the US currency slipped on the forex market and world stockmarkets extended their rally from last week's Brexit bombshell.
Commodity prices rose 0.7% on average, and the single Euro currency edged up towards $1.11 as the Dollar fell, rallying 2 cents from this week's new 3-month low.
London's largest 100 shares had by lunchtime recovered three-quarters of Friday-to-Monday's 5.6% plunge, but the more UK-focused FTSE250 index remained almost 9% below its pre-Brexit level.
The Pound Sterling meantime rallied above $1.34, regaining 3 cents from Monday night's new 31-year low but still holding a drop of more than one-tenth.
That curbed prices to buy gold with British Pounds at £980 per ounce, some 2.6% above
Brexit Friday
's afternoon benchmark of £955 – the highest Friday finish
since April 2013
– as UK government Gilt yields held at record lows beneath 1.0% per year.
"The mildly up sloping channel on [gold's] daily chart at $1315/$1307, which also happens to be the
inverted Head and Shoulder
confirmation level, will be a test of character," says Stéphanie Aymes' technical analysis team at French investment and London bullion market-maker Société Générale.
"In the event of a downside breakout, a deeper retracement would then occur towards $1284."
After gold priced in Dollars formed "a
doji on [Monday's] candlestick
chart…highlight[ing] indecision among buyers and sellers," says Russell Browne at Canada-based ScotiaBank's New York office, "the metal appears to be consolidating and I remain neutral."
"Resistance is at $1358.50 [Friday morning's Brexit high] and support remains unchanged at $1304…the May high."
Looking at the fundamentals, "We believe that Britain's forthcoming exit from the EU will, on balance, remain positive" for investors choosing to buy gold, says the latest weekly note from specialist analysts Metals Focus.
"A number of milestones lie ahead for the exit process, and market volatility around them should encourage safe haven buying. Faced with this backdrop…the Fed is likely to take an even more dovish approach."
"If Brexit is used as an excuse," said legendary 'contrarian' investor Marc Faber to Bloomberg
in Hong Kong overnight
, "the central banks will print more money, QE4 in the US is on the way, and the depreciation in the purchasing power of currencies will continue.
"In that situation, you want to own some gold."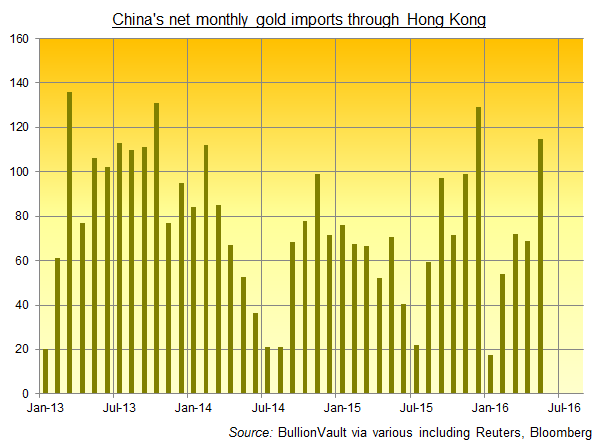 That took the running 12-month total to 846 tonnes, the fastest annualized inflows so far in 2016.
Weighing over 51% more than the last 3 years' monthly average, it was also the largest June inflow from Hong Kong to China since at least 2011 on available data.
Indian households wanting to buy gold are currently finding up to 5% discounts below world prices
thanks to an increase in smuggling
to avoid import duty and sales tax, reports the
Business Standard
.
Legal supplies are trading at 2.5% discounts.