GOLD ETF share prices popped to their highest level this week so far, tracking the price of bullion's rise to $1205 per ounce as US data showed an unexpected plunge in the number of new home-building permits issued last month.
New UK data also surprised traders and analysts this morning, showing the strongest rate of consumer-price inflation in the world's No.5 economy for 6 months at 2.7%.
The US Dollar eased back and global equities pushed higher however, with Asian stock markets jumping over 1% after
China hit back
at US president Donald Trump's latest trade tariffs with new import duties of its own on US goods.
"Gold is not behaving like the haven that it is supposed to be,"
Reuters quotes
analyst Nitesh Shah at exchange-traded fund promoter ETF Securities.
But US investors have not needed a "safe haven" since the gold price fell through $1200 in mid-August, with the US stock market rising nearly 3% and setting new all-time highs on the S&P500 index.
Over that same period investors have meantime liquidated more than 5% of the SPDR Gold Trust (NYSEArca:GLD), the largest gold-backed ETF vehicle, taking the quantity of bullion needed to back its shares in issue 42 tonnes lower.
The equivalent of 3 days' global gold-mining output, that selling has shrunk the GLD to its smallest size since February 2016.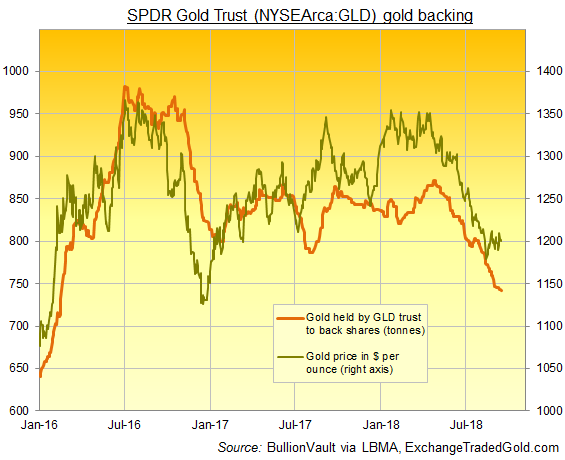 2018's top 3 performing ETF products for US investors are all heavily-leveraged bearish bets against precious metals,
according to ETF.com
data.
Direxion's Daily Gold Miners Index Bear 3x Shares (NYSEArca: DUST) leads the table, up 72.6% by tripling the negative return from the NYSE Arca's index of gold-mining stocks.
Out of the top 100 performing ETFs, DUST's gain is followed by Credit Suisse's bearish silver product, the VelocityShares 3x Inverse Silver ETN (Nasdaq: DSLV) – up by 59.4% – and then Direxion's Daily Junior Gold Miners Index Bear 3X Shares (NYSEArca: JDST), now showing a year-to-date rise of 53.7%.
Launched
in June this year
, the new "mini-GLD" from SPDR (NYSEArca:GLDM) defied the lack of interest to grow nearly 10% on Tuesday.
Over its first 60 days of trading however, the GLDM – which carries the lowest on-going management fee of any
gold-backed ETF trust fund vehicle
at 0.18% – has grown to need just 3.5 tonnes of bullion backing.
Big brother the GLD launched in November 2004 with a fee of 0.40%. It grew to 155 tonnes over its first 60 days of trading.
The US precious-metals market faces "
unprecedented low levels of activity
that continue to persist," says Greg Roberts, CEO of US bullion bar and coin wholesaler A-Mark Precious Metals (Nasdaq: AMRK).
A-Mark last night reported revenue growth of 9% in the 12 months ending 30 June, but the prior year's net profit of $1.00 per share became a loss of 48 cents as the company digests August 2017's purchase of retail-facing Los Angeles-based dealer Goldline.
Year-to-date, sales of brand-new gold American Eagle coins have
fallen by one-fifth
from the same period in 2017, data from the US Mint show.