GOLD PRICES fell to new 2018 lows against a rising Dollar on Tuesday in London, hitting $1274 per ounce as President Trump threatened to hit back at China's retaliation over last week's new US trade tariffs with extra charges on another $200bn of Chinese imports.
"The headlines
gave gold a boost
in Asia today," says a trading note from Swiss refiners and finance group MKS Pamp, drawing "modest interest out of China.
"However the metal failed to extend further as offers [to sell around] $1283 restricted top-side gains."
Global gold prices
, typically quoted for London settlement, opened Tuesday morning some 1.3% below where Shanghai closed last Friday for the Dragon Boat holiday weekend.
Wholesale prices in the No.1 consumer nation fell by the same proportion today however, keeping a premium above London quotes of just $4.85 per ounce – barely changed from last week and still offering only half the usual incentive for new imports of
gold bullion bars
.
With few wedding dates now on Hindu calendars until the approach of November's Diwali festival, India wholesale prices meantime held a $4 discount to London bullion on Tuesday, extending the weakest picture for demand versus supply
since September last year
in the No.2 consumer nation.
Wholesale gold prices in India have now traded at a discount for 5 weeks, despite global Dollar quotes retreating some $50 per ounce over that time.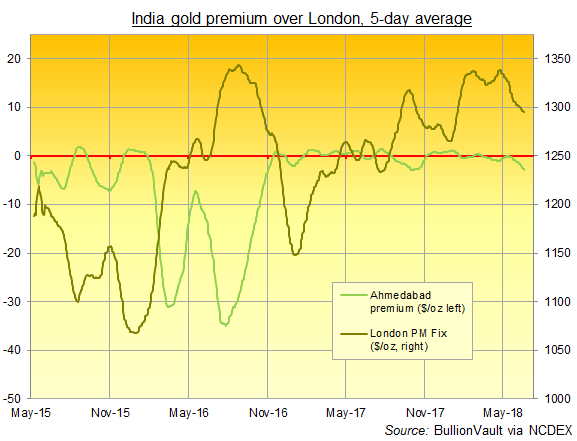 Jewelers in neighboring Dubai –
visited by 2 million
Indian nationals last year – are currently
offering heavy discounts
as part of a month-long 'My Jewellery Festival', with free gifts for shoppers also including gold bullion coins.
No.5 consumer nation Turkey today saw its Lira fall to 3-week lows on the FX market, just 2% above late-May's fresh all-time record as the Government of President Recep Tayyip Erdoğan – standing for re-election in what
could prove a close poll
this weekend –
hit back at fellow Nato member
 the United States for blocking the delivery of F-35 warplanes over Ankara's decision to buy air-defense missiles from Russia.
Silver meantime tracked gold prices lower again on Tuesday, falling to 5-week Dollar lows at $16.25 per ounce.
Weakness in the Euro currency however held the white metal above €14 per ounce, a four-month high when reached in late May.
Gold priced in the Euro meantime spiked and fell back to €1103, barely changed for the week after dipping below €1100 on Monday for the 5th time in 4 weeks.
On the geopolitical front Tuesday, the US Pentagon confirmed it is
suspending plans for 'wargames'
with ally South Korea following last week's historic meeting in Singapore between President Trump and North Korea dictator Kim Jong un.