GOLD BULLION briefly broke above $1250 per ounce for the second time in 5 months Tuesday morning in London, while the US Dollar fell and world stock markets extended their slump ahead of tomorrow's widely-expected interest-rate hike from the Federal Reserve.
With the Fed's 2-day meeting starting today, and with New York's S&P500 index now 7.0% lower from this time last month, Asia and European equities lost another 1% on average by lunchtime in London.
The odds of 3 or more Fed hikes between now and this time in 2019 have dropped from 37.8% to just 10.3%
according to speculative betting
on CME interest-rate futures.
"A lot of investors are expecting that the Fed will defer interest rate hikes and may not look to raise them quickly,"
Reuters quotes
one Singapore gold bullion dealer.
"For much of 2018, investors tended to focus on other, higher-yielding asset classes [than gold]," says a note from specialist analysts
Metals Focus
, "but we do expect this position to gradually change, especially during the latter part of 2019…[as] a slowdown in the US economy will encourage the Fed to adopt a far more dovish stance towards its interest rate policy."
Forecasting that "a bull market in gold [will] emerge from late 2019 onwards," Metals Focus think that uptrend will then "remain in place for two to three years."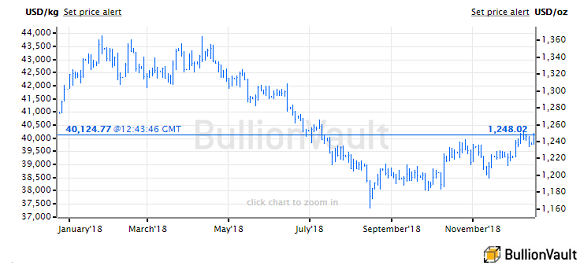 Investment and bullion bank J.P.Morgan also expects gold prices to remain "neutral" over the first half of 2019 between $1200 and $1250 an ounce but "in the final three months of the year gold will finally start to shine and make a push towards $1400."
Again, J.P.Morgan points "expectations for a Fed pause" next year led by an economic slowdown. That in turn will lead real interest rates – adjusted by inflation – "to potentially begin to move lower, exciting gold prices."
"We expect the US Dollar index [against a basket of other major currencies] to weaken by about 6.5% in 2019," says Swiss bullion bank UBS's Global Macro Strategy team, saying that its "overarching views" see non-US interest rates as being too low while the Dollar "is fundamentally expensive".
With the Bank of England due to announce its latest rates policy Thursday, the British Pound meantime hit a 1-week high versus the Dollar and a 2-session high versus the Euro today, even as the UK Government met to
discuss accelerating plans
for a "No deal hard Brexit" next March.
That capped the price of wholesale gold bullion for UK investors beneath last week's finish of £984 per ounce.
Euro gold prices also retreated to last Friday's finish, erasing yesterday's 0.5% gain after briefly rising above €1100 per ounce – a 6-month high for bullion when first reached last Tuesday.