GOLD PRICES rose near 2-week highs above $1225 in London trade Wednesday, adding $5 per ounce as the US Dollar slipped against other major currencies and European stock markets rallied from the latest slump in global equities.
White House advisor Kevin Hassett said overnight the US may
push for China to be expelled
from the World Trade Organization, looking "to evict" the world's No.2 economy after it continued to "misbehave" on tariffs and other blocks to US imports.
Joining the WTO in 2001, China has grown its GDP almost 10-fold since then, with US exports to what is now the world's No.2 economy
rising 500%
while US exports to the rest of the world rose 90%.
"[While] the current risk-off tone and flight toward the Dollar is weighing upon bullion price action," says a note from Swiss refiners MKS Pamp, "the on-going trade tensions between the US and China are driving global equities lower and continue to underpin interest across the precious complex.
"Uncertainty over Brexit is also adding fuel to the fire."
Euro gold prices rose Wednesday above €1075 per ounce for the 5th time in 6 sessions as the European Commission in Brussels confirmed it wants to take "excessive debt" measures against Italy over Rome's planned 2019 budget – including a potential fine worth 0.2% of the country's annual GDP.
"Italy is at risk of serious violation of the Council's recommendation," said EC vice-president Valdis Dombrovskis. "It is
sleepwalking to instability
. 
"I can not see how perpetuating [Italy's] vulnerability can increase economic sovereignty. On the contrary, I think it will result in further austerity in the future."
Rome's cost of borrowing spiked and then fell back amid rumors that Rome may be open to revising its planned deficit of 2.4% of GDP.
Compared to Germany's 10-year Bund yields, the BTP spread this morning hit 330 basis points for the second day running, nearing the 5-year gap seen earlier in 2018's return of Italy's deficit spending problems.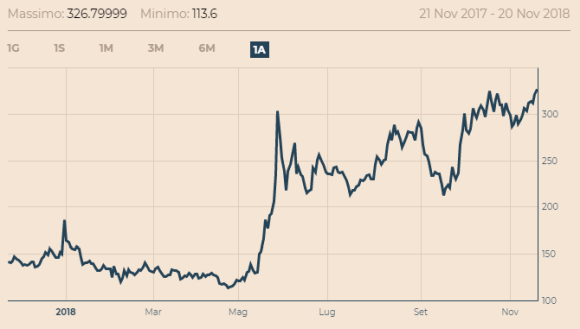 "Wild swings" in Italy's bond prices have
deterred even domestic savers
from buying Rome's latest issue of inflation-linked notes, the Treasury says, with demand so far totalling just one-fifth of the prior issue's sales.
The
UK's 10-year borrowing costs
meantime edged down towards last week's 3-month low of 1.37% as Prime Minister Theresa May headed to Brussels to finalize her EU withdrawal agreement ahead of the weekend's summit of the remaining 27 member states.
Scheduled for sign-off by the EU27, May's Brexit deal was
noisily rebuked
by the majority of UK politicians discussing the issue again today in Parliament.
Silver meantime tracked gold prices higher on Wednesday, testing 2-week highs near $14.50 for a second day.
Latest UK export data say silver flows to India jumped to a 5-month high in September, notes specialist consultancy Metals Focus, bringing the year-to-date total up 227% from the first 9 months of last year at 1,709 tonnes.
Platinum retreated but also held a small gain for the week so far, trading up to $850 per ounce.
"Shipments to the United States, China and Italy rose sharply," Reuters reports.