GOLD AND SILVER PRICES slipped on Monday morning in London amid the ongoing uncertainty over the US/Chinese trade war and the air strikes in Syria, writes Steffen Grosshauser at BullionVault.
Gold fell $6 from Friday's close at $1333 per ounce after a volatile week while markets were waiting for the next move in the trade dispute between the world's biggest economies the Unites States and China.
Asian and European shares climbed and the US Dollar strengthened after its decline last week following much weaker than expected US job data. Market tensions eased on Sunday when US President Donald tweeted that China would "take down its trade barrier", just a few days before President Xi Jinping's keynote speech at the Boao Forum for Asia (BFA) in Hainan.
Bloomberg reports that China may be considering a gradual Yuan depreciation as a tool in the trade dispute
Although tariffs have been announced on both sites, none of them have been implemented as yet.
The heated discussion over a potential trade war also drove Chinese investors into buying gold ETFs as a safe haven, according to the mining-backed marketing group the World Gold Council (WGC).
"Inflows in the US and China reflect broader market uncertainty related in part to geopolitical risks such as global trade tensions in March," WGC director of investment research Juan Carlos Artigas said.
The holdings of the world's biggest gold ETF, the SPDR Gold Trust (NYSEArca:GLD), grew by 7.7 tonnes to the highest since September 2017.
Comex speculators, in contrast, reduced their net positions in gold futures and options by 20% last week, according to the latest Commodity Futures Trading Commission (CFTC) data. These contracts, mainly traded by hedge funds and other large speculators, declined for six of the last ten weeks.
At the same time, these non-commercial speculators extended their net short position in Comex silver by 17% to 6,159 tonnes – the biggest net short position since the reporting started in 2006. The silver positions have fallen for seven out of ten weeks.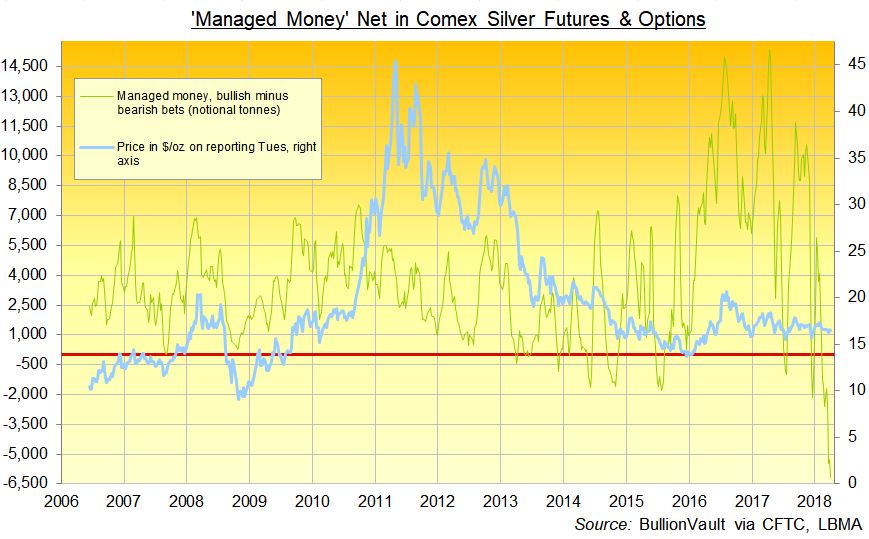 Comex platinum investors almost turned  bearish with the net long position down to 1 tonne after reductions for the sixth successive week.
Silver prices rose 0.5% from last week's close at $16.38 per ounce just to fall back to $16.35. Palladium, however, rallied $23 to $931 on Monday, extending its lead over its sister metal platinum which slightly advanced but last week plunged to its lowest level this year, pushing the gold/platinum ratio to an all-time high before the downward price movement  came to a halt on Friday.
"The chatter over the weekend appeared to suggest some optimism that some form of [US-Chinese] deal would likely be the probable outcome, though how long that could take to pan out remains a significant unknown, and as such further volatility seems likely," according to Michael Hewson, chief market analyst at the Commodity Markets Council (CMC).